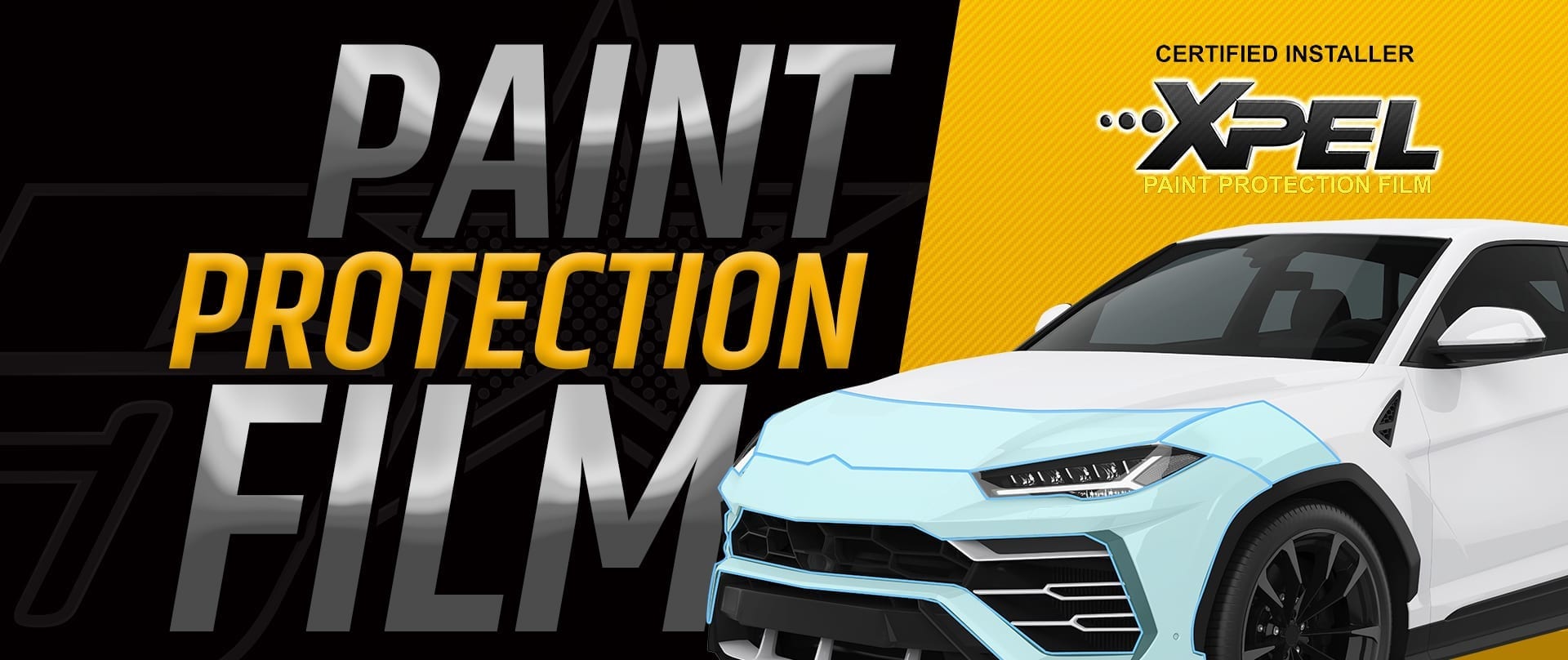 Protect the investment of your vehicle with the industry's leading, most durable paint protection film. Today's Paint Protection (PPF) is an optically clear, multi-layered film available in a variety of thicknesses (measured in mil in the US) and colors. Our products offer a self-healing top coat capable of reforming itself after being scuffed or scratched, maintaining clarity for more than ten years. This high gloss, invisible protective film will protect your vehicle from the many road hazards you may encounter. Road hash as it is called, (chips in your paint from pebbles, road debris, road salt, and sand) not only tarnishes your vehicle's look and feel, but it also lowers the resale value of your vehicle. Protecting vehicles is our No. 1 goal.
BENEFITS OF Paint Protection (PPF)
Keeps your car looking shiny & new
Paint protection prevents your car's paint from fading and gives it a polished glossy appearance at all times.
Makes car cleaning easier
PPF repels dust, so your car's exterior will not have a dust build-up problem. This makes the cleaning job a lot easier because often you can simply use a soft cloth to clean your car instead of using water every time.
Repels environmental damage & Provides scratch & chemical protection
Paint protection not only prevents your paint from UV rays, but also from scratches, rust, nicks, burns, etc…
Scratches build up moisture which eventually leads to rust. Similarly, chemicals from harsh cleaners and environmental elements lead to discoloration. PPF protects this damage by acting as a chemical barrier for your car's exterior.
Saves money on repairs
PPF helps protect your car's exterior so that you don't have to spend money frequently on damage repair.
Invisible protection for your car
Paint protection will enhance the look of your car and keep its glossy finish. As long as you avoid harsh cleaners, you can clean your car like you normally would.
The best thing about PPF is that it's completely invisible; no one would notice it. 
Critical Protection
Our basic package protects the most vulnerable areas of your car.
This package covers Door Edges/Handle Cups, Mini Hood, and Trunk Lip.
Partial Front Skin Package
This package provides protection on areas vulnerable to rock chips and bug splatter. 
We install PPF on  the Front Bumper,
Partial Fenders, Front 18-24″ of Hood
Side Mirrors (if painted) 
Full Front Skin
Our Most Popular Package! Cover the entire front of your vehicle  from the Front Bumper to door edges and handle cups.
Full Body Skin
Completely protect your car. This package includes professional installation of our Paint Protection Film (PPF) on:
Front Bumper

Full Front Fenders

Rocker Panels

Full Hood

Side Mirrors (if painted)

Headlights/Foglights

Roof

Trunk

Rear Bumper 
What is paint protection film (which is also known as PPF)?
Paint Protection Film is a flexible, clear top coat that has exceptional stretch and is self-healing to eliminate minor scratches.
Where can I put clear paint protection film on my car?
Paint Protection Film (PPF) can be professionally installed anywhere you want to protect your car finish from scratches, chips, stains and other damaging elements. 5 Star paint protection film pro series protects: 
Rocker panels from sand and stones kicked up by tires
Trunk ledges from golf clubs, luggage, and strollers
Hoods, bumpers and mirror backs from flying gravel, bug damage and tar
Door handle cavities and door edges from rings, keys, belt buckles and purses
Full hoods, trunks and roofs from bird droppings and tree sap
What does self-healing paint protection film entail?
Innovative technology in the paint protection film causes minor scratches to disappear, which keeps the paint protection film and car's finish looking new. 
What is the warranty for paint protection film?
The 5 Star comprehensive warranty for paint protection film (PPF) is valid 10 years from the date of installation and covers against defects, yellowing, bubbling and cracking.
Is clear or matte paint protection film removable?
Yes. Paint protection film (PPF) is intended to be permanent, but it can be removed without damage to your car's finish. 5 Star recommends that you visit us for removal should you choose to remove your PPF.
Nab a Spot
Take advantage of our online scheduling process. This will help you get the appointment which best fits your busy schedule.